Complete Casting Solutions
USAC is a full-service, precision aluminum casting foundry offering Engineering, Design Support, Tooling, Casting, Machining and many more Valued Added services. With flexible lot sizing and in-house tooling, our foundry can deliver industry leading precision aluminum castings specifically tailored to our customers' needs.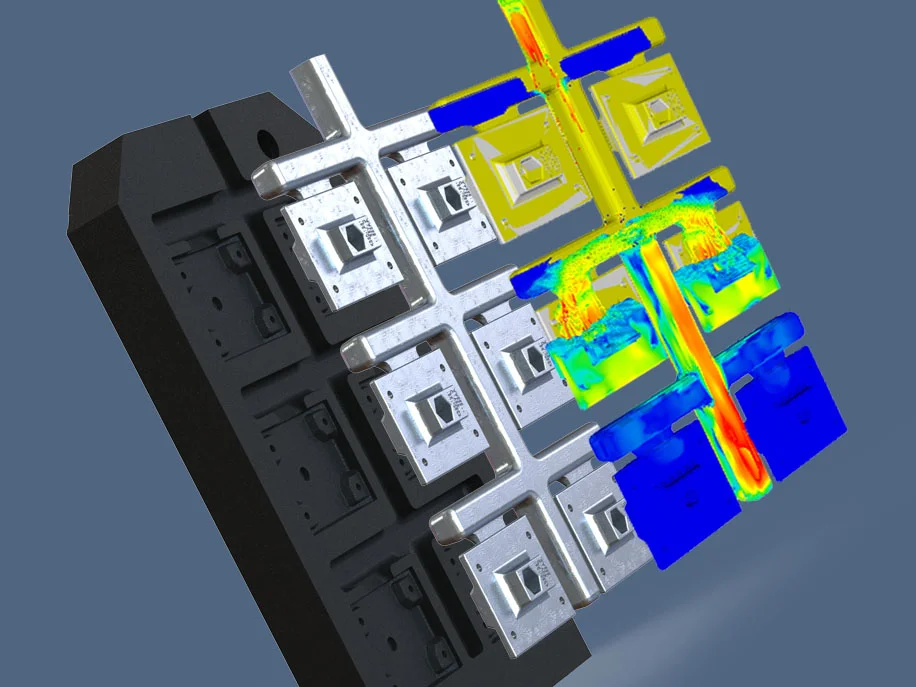 At USAC, we design and engineer precision ITAR-registered sand casting and permanent mold tooling for a wide range of volume production castings.
We pair highly experienced foundry designers with design engineers so that our design team can provide tried and true design methodology backed by cutting edge solidification modeling, CAD analysis, and an A9100D certified tooling design and development process.
During our initial quoting of a new project, we look for the follow design criteria:

A dimensioned 2D print and 3D model showing casting/machining tolerance requirements.
Aluminum casting alloy or required material properties.
Anticipated annual production rates.
Anticipated order schedules/quantity.
Any critical dimensions or special characteristics related to the casting or machined part.
Casting Class and Grade
Surface finish requirements
Allowable draft angles


With this information, our design team will work along with the customer to help determine a suitable casting process and tooling plan.  It is our goal to provide our clients with quality castings delivered reliably, within budget.

When designing a part as a casting, some standard design considerations are:

Is there sufficient draft?  Is it placed suitably in relation to the parting line?
If required, where are the tooling points located?  Are they on or near the parting line?
Is there ample machining stock in appropriate locations?
Are there any unnecessarily thick or thin wall sections?
Are fillets and radii adequate/in line with tolerance expectations?
Can the number of cores be reduced/eliminated while maintaining functionality?
With our in-house pattern shop and full-service machine shop, USAC can design and produce high quality tooling at an affordable price.

We design tooling to fit all our production lines, from cast iron permanent molds to urethane sand patterns and multi-material machining fixtures.

We design it, we build it, and we use it!

Not only do we design and produce high quality tooling, but also our in-house capabilities to maintenance and repair all tooling whenever the need may arise.

This full circle capacity allows us to continually refine our designs with direct feedback from the production floor.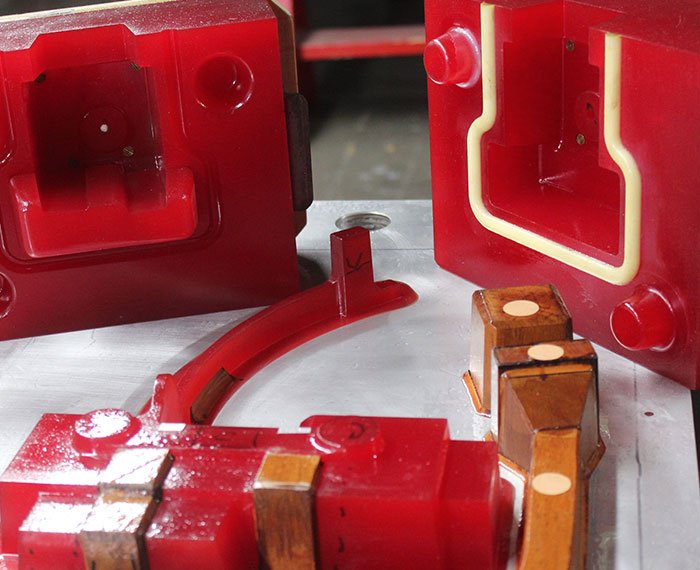 Most of our tooling projects are made from the following materials, application dependent:

Permanent Molds:

Cast Iron Durabar
303 Stainless Steel Replaceable Components
H13 Hotwork Die Steel Ejector Pins
Blanchard Ground Steel Plates

 

Sand Patterns:

6061 Aluminum Backing Plates
Urethane Cope and Drag Features
Hand Crafted Wooden Gating and Risers

 

Core Boxes:

Cast Iron Body with Steel Mounting Plate
Urethane Body with Aluminum Mounting Plates

 

Machining Fixtures:

6061-T6 Aluminum Plate
Steel Locating Buttons
CarrLane Clamping Systems
Vacuum Clamping
Hydraulic Clamping
Mori Seiki or Dusan Pallet Bases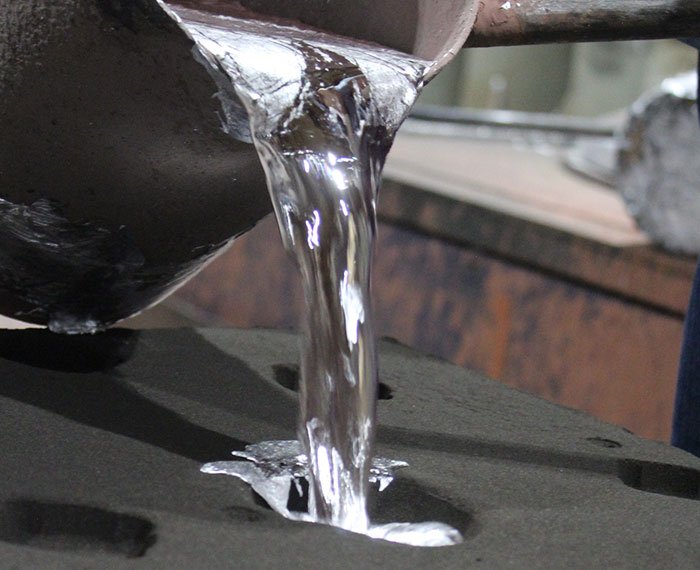 USAC provides precision aluminum castings for aerospace, defense, transportation, and commercial companies throughout the world. We cast using three primary standard castings processes:
Permanent Mold  |  Dry Sand (No-Bake) Casting  |  Green Sand Casting
Permanent Mold castings are made in a gravity-fed process using cast iron molds – perfect for high production, low defect aluminum castings.
Dry Sand casting is primarily used to produce medium to very large aluminum castings and features the highest part-to-part dimensional accuracy.
The Green Sand casting process blends accurate part accuracy with an increase in production quantities over dry sand casting.  This process is most commonly used for aerospace applications and provides reliable casting quality for complex parts.
Our permanent molds are handled using Hall and Stahl tilt pour machines.  This technique reduces metal tumbling during the pour resulting in superior metal quality.  Problems with internal gas, dross, and dirt are virtually eliminated.  

Permanent Molds are best suited for high production commercial castings.  Aircraft quality castings may also be produced with this process when higher properties are required.  For more complex parts, sand cores or multi-pull molds (more than 2 pieces) can be designed into the permanent mold tooling.

18″x24″ Tilt Pour Machines
34″x34″ Tilt Pour Machings
48″x62″ Tilt Pour Machines
Static Molds

Commonly referred to as No-Bake or chemically bonded sand casting, this process is used to produce medium to very large aluminum castings.  The best part-to-part dimensional accuracy can be delivered on large complex castings using this molding material.  As a result, medium to large size sand cores are also manufactured using this process.

Hunter high-speed, automated molding is used for producing bread-box sized, green sand castings.  Pin lift cope and drag machines are used for medium and large sized green sand castings, and the cores for both production lines are produced using state-of-the-art automated SO2 machines.  Traditional bench molding is used to produce samples and short run parts.

Hunter HMPC20 20″x24″ Matchplate
Osborn 719RJWA Cope and Drag Machines
Osborn 716RJWA Cope and Drag Machines
International Jolt Squeezers
Cramer Shot Blast Cleaning Machine

 

Permanent Mold:
• 356 and A356 permanent to ASTM B108
• C355 to AMS 4215

Sand Casting:
• A356 to ASTM B26, AMS-A-21180 and AMS 4218
• 356 to ASTM B26 and AMS 4217
• A357 (beryllium free) to AMS 4219 and AMS A 21180
• C355 to AMS 4215

Dry Sand:
• ASTM B108: 356 and 356A
When initially poured, aluminum castings do not have their full potential material strength.  In order to drastically improve the material performance of cast aluminum, each casting must undergo a heat treat process.  This process ensures that each casting has uniform material properties that are reliable to the specific alloy/material performance requirements of our customers.

In order to ensure that we are able to continually provide our customers with quality castings, our heat treat department has been certified to Nadcap AS7102.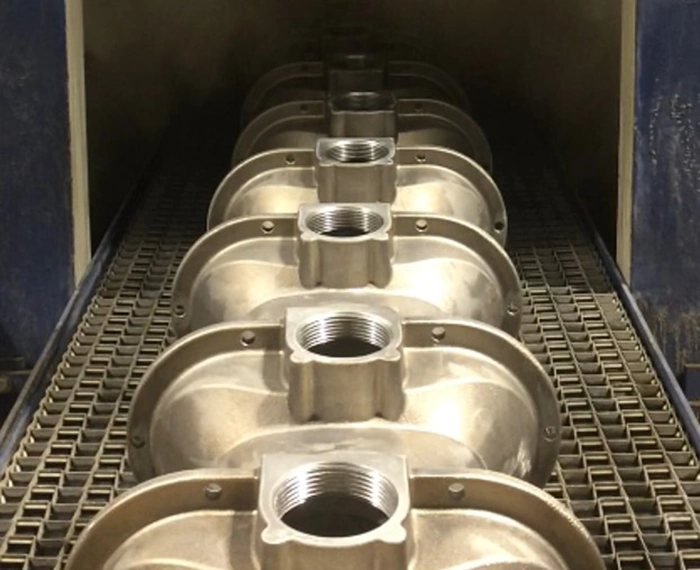 This process involves first homogenizing the molecular structure of the metal through a gradual heating cycle and then quickly quenching the material in a water bath.  Castings then undergo an artificial aging process that helps stabilize the structure of the casting, ensuring geometric stability and accuracy over the lift of the casting. 

Aluminum Alloy Specifications:

Permanent Mold:
• 356 and A356 permanent to ASTM B108
• C355 to AMS 4215

Sand Casting:
• A356 to ASTM B26, AMS-A-21180 and AMS 4218
• 356 to ASTM B26 and AMS 4217
• A357 (beryllium free) to AMS 4219 and AMS A 21180
• C355 to AMS 4215

Dry Sand:
• ASTM B108: 356 and 356A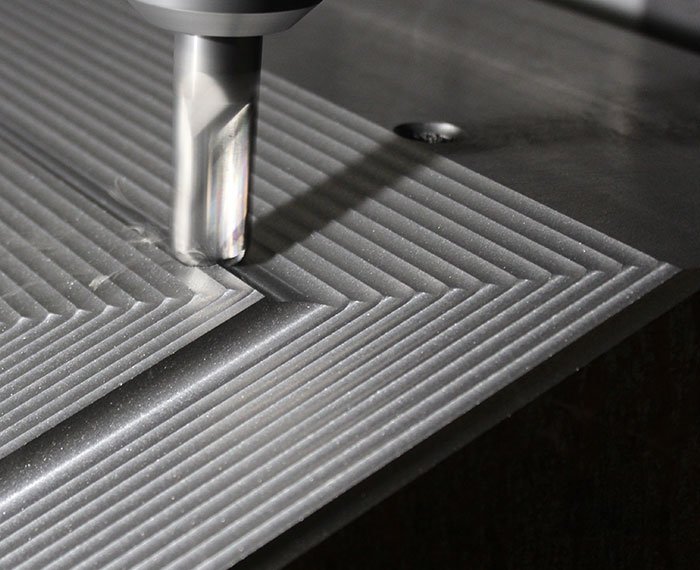 One of the largest customer benefits at USAC is our in-house machine shop.  The same engineers that design your mold tooling work with the design and layout of the machining process for each casting. 

With this process, there is total cohesion between casting the part and machining its features.  By planning the casting design and machining concept in tandem, USAC is able to reduce lead times, potential scrap, and the final costs to our customers.
Bridgeport Mills (2 machines)
Bridgeport EZ Trak Mill
Doosan Puma 240 (Horizontal Turning Center)
Doosan NHP4000 (Horizontal Machining Center)
Fadal VMC 6030 with 4th Axis (Vertical Machining Center)
Haas VF-3 (Vertical Machining Center, 2 Machines)
Hass VF-5SS (Super Speed Vertical Machining Center)
Maxi-Turn Lathe
Mazak Manual Lathe
Mori Seiki NH-4000 (Horizontal Machining Center, 2 Machines)
Mori Seiki 1035 Eco (Vertical Machining Center, 3 Machines)
Wilton Mills (2 Machines)
Quality and inspection is of the utmost importance in everything we do. Our Quality and Inspection teams provide precise dimensional and Non-Destructive Testing (NDT) inspections with our certified processes. 
We thoroughly inspect all castings using the highest precision equipment, and our Coordinate Measuring Machines (CMM) are our preferred method of measurement whenever possible.  These machines offer accuracy down to a few microns and give consistent repeatability, ensuring our castings meet the quality and design requirements of our customers.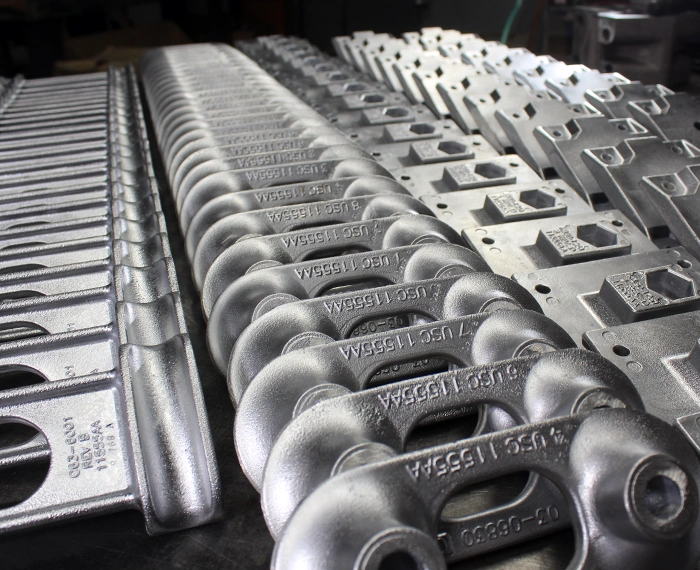 Mitutoyo Crysta-Apex (CNC Coordinate Measuring Machine (CMM))
Mitutoyo LH-600 (Digital Linear Height Measurement System)
Mitutoyo HDS-G24 (Linear Height Measurement System, 2 machines)
United SFM (Universal Tension & Compression Testing System)

 

USAC offers a range of approved and accredited NDT testing and inspection services to meet the most demanding casting specifications. Our test lab is fully equipped and accredited to perform destructive and non-destructive testing services for raw materials and finished parts and adheres to a strict quality system and quality procedures to ensure reliable inspection results.

NDT Capabilities and Services

Nadcap Accredited NDT Testing


Radiographic Inspection: Radiographic inspection is one of the most effective methods for detecting defects, such as porosity. Inspection of the resulting images can reveal whether the casting meets the acceptance criteria.


Penetrant Testing: Castings are dipped into a penetrant and viewed under ultraviolet light to detect cracks, pores or other surface discontinuities.


Room temperature Tensile and Brinell hardiness testing.


Spectrochemical: Analysis for control of metal properties